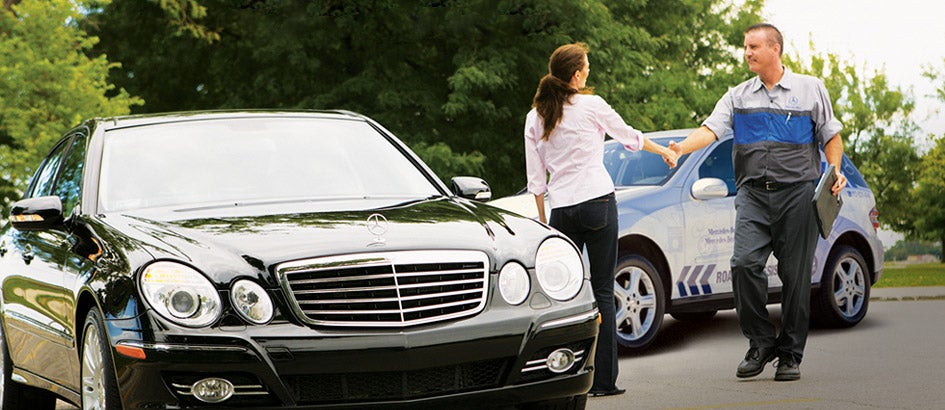 Anytime. Anywhere.
Mercedes-Benz 24-Hour Roadside Assistance
Roadside Rescue, On-call 24 / 7 / 365
As a Mercedes-Benz customer, you'll enjoy the peace of mind that comes from having "on-call" help available 24 hours a day. Dispatching of Mercedes-Benz technicians is a standard that has long set us apart from other luxury car makers.
Program Advantages
We're here for you when you need it most
The Mercedes-Benz 24-Hour Roadside Assistance Program provides help when you need it most - replacing a flat tire, delivering a jump start in the event of a dead battery, or providing a few gallons of fuel should you accidentally run out. If you have an eligible Mercedes-Benz vehicle simply contact us via the Roadside Assistance 800 number or Mobile App. Or, if you have mbrace®, push the Wrench Button. Then, Mercedes-Benz personnel will be dispatched to your location at no charge.
Unsurpassed care no matter where the road takes you
Should your vehicle experience a mechanical issue or be involved in an accident, Mercedes-Benz Roadside Assistance will arrange for a tow to the nearest authorized Mercedes-Benz dealer at no charge for all eligible Mercedes-Benz vehicles. In the event of an accident, Mercedes-Benz Certified Collision Centers ensure that your vehicle is repaired using only Genuine Mercedes-Benz Parts. A complete list of Mercedes-Benz Certified Collision Centers can be found at www.mbcollisioncenters.com. In certain situations, additional charges may apply.

The Mercedes-Benz 24-Hour Roadside Assistance Program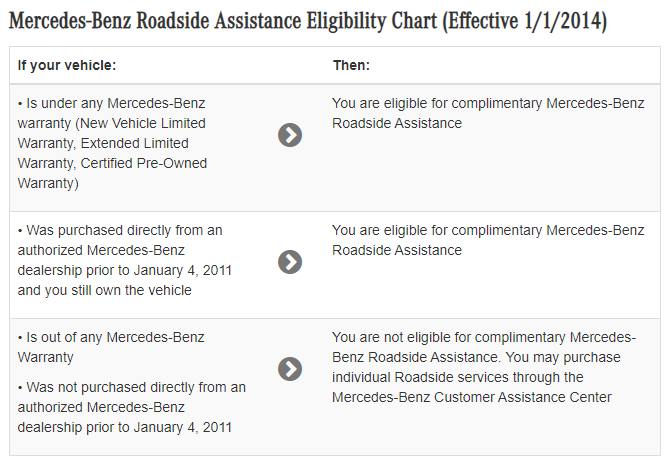 As of January 1, 2014, Mercedes-Benz Roadside Assistance will offer the following complimentary services for eligible vehicles:
Roadside Assistance*
Replace a flat tire with a spare
Jump start
Deliver a small amount of fuel, should the vehicle run out.
Lockout Service - Pay per use service without an active Mbrace account
Complimentary towing to an authorized Mercedes-Benz dealership, given that the service/repair is completed at the dealership
If the repair is not performed at the dealership, a fee of $150 will be charged to the customer
The Mercedes-Benz 24-Hour Roadside Assistance Program
How do I get help?
Mercedes Benz Roadside Assistance Application
Launch the application.
Register your account with your personal information.
If you are in an emergency, please dial 911, or select the 'Yes, I am safe' option.
Set your vehicle location by using your GPS, or enter the address of your current location.
Select the issue you're having with your Mercedes-Benz.
Press the "connect to roadside assistance" button to call M-B Roadside Assistance.
Telephone:
Call 1-800 FOR-MERCedes (1-800-367-6372). You will be asked for the following information:
Your Name
Vehicle Identification Number
Year, Model, and Color of Vehicle
Telephone Number Where You Can Be Reached
Disabled Location of Vehicle
Description of Problem
mbrace®:
If your vehicle is equipped with mbrace® and you are an mbrace® subscriber:
Press the Wrench Button* in your vehicle (located in armrest or overhead console).
You will be connected with a Roadside Assistance dispatcher. mbrace® will automatically send the dispatcher information about your vehicle type and location.**
Describe the problem you are experiencing to the dispatcher.
The dispatcher will send appropriate service personnel to your location.
Crown Eurocars in Pinellas Park FL Roadside Assistance
mbrace® Mobile Application (for iPhone® and Blackberry®):
Launch the application
Login with your Account Number and PIN (If you forget your mbrace® account number or PIN. Call the Mercedes-Benz mbrace® Response Center at 1-866-990-9007 or press the i-Button in your vehicle)
Touch or scroll and click on the Assistance button to access Assistance screen
Touch or scroll and click on the "Call" button next to call Mercedes-Benz Roadside Assistance.
* See your operator's manual for complete instructions.** Only where cellular and GPS are available.

Service Restrictions
Every attempt will be made to assist a customer; however, the following circumstances may limit our ability to provide services to you.
Restricted Roadways: Many states / cities have roadways in which unauthorized service vehicles are not permitted.
Acts of Nature: Due to heavy snowstorms, flooding or other acts of nature, ability to obtain service may be limited or in some cases, service may be unavailable. In these cases, you may be asked to call 911.
Vehicle Accessibility: Additional charges may apply for a breakdown location that is not a reasonably accessible roadside location, as determined by our authorized technician or roadside service tow provider. These circumstances include, but are not limited to, parking garages that may inhibit tow services' ability to access and retrieve disabled vehicles, and vehicles that are off-road locations.
A program of this magnitude simply would not be possible without the enthusiastic support of Mercedes-Benz dealers. It's reassuring to know that virtually all Mercedes-Benz dealers across the continental United States, Hawaii, and Alaska, participate in this program. Roadside Assistance service will be provided to all customers by an authorized Mercedes-Benz dealer within approximately a 30 mile radius. Depending on the circumstances these services may be provided by an outside independent service provider, courtesy of Mercedes-Benz Roadside Assistance.
Mercedes-Benz USA reserves the right to limit services and reimbursement to an owner or driver under the program described when, in the sole judgment of Mercedes-Benz, the claims become excessive in frequency or type of occurrence. Mercedes-Benz USA also reserves the right to revise or discontinue the described benefits / services at any time without notice, at the sole discretion of Mercedes-Benz USA. Prices mentioned within this website and services available are current as of the date this website was last updated and are subject to change without notice.