Mercedes Benz Service A or Service B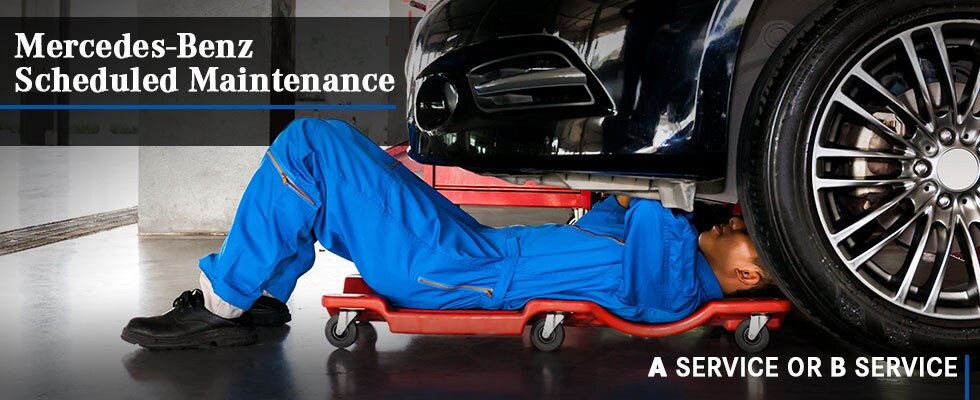 Engineered Service For Engineered Performance
Crown Eurocars proudly offers the exclusive Mercedes-Benz A Service and B Service certified maintenance programs. It's the only way to ensure your Mercedes-Benz performs up to its exact specifications.
Each Mercedes-Benz is precisely engineered for unparalleled performance. Every detail, down to even the smallest component, is designed for peak operation.
This is exactly why Mercedes-Benz created the Flexible Service System to divide your scheduled maintenance requirements into two distinct service paths: A Service and B Service.
See how these two scheduled services work together to keep your Mercedes-Benz running as well as it did from mile one.
A Service: More Than an Oil Change
There are many factors that dictate when your Mercedes-Benz will require its A Service. Driving conditions and environmental factors play a part, but generally your first A Service will need to be scheduled around 10,000 miles or after its first year.
A Service reoccurs approximately every 10,000 miles or 1 year. You're A Service includes:
Mercedes-Benz Synthetic Motor Oil Replacement
Genuine Mercedes-Benz Fleece Oil Filter replacement or Replace Genuine Mercedes-Benz Oil Filter
All fluid level checks and corrections are dependent on factory-recommended service intervals for your vehicle's year and model
Set tire pressures including spare reset tire pressure monitoring system (if applicable)
Brake component check and inspection
Reset maintenance counter
Adhere to all required elements listed by model year and specific model as indicated on the corresponding service sheet for Mercedes-Benz Maintenance Systems in the USA
B Service: Expert Service, OEM Parts
The timing of your B Schedule maintenance is affected by the same factors as your A schedule. However, your first B schedule appointment will occur roughly at 20,000 miles or 1 year after your previous service. All components included in A Service are also included in B Service. The services listed below are in addition to the services listed in A Service.
B Service reoccurs approximately every 20,000 miles or 2 years. Your B Service includes:
Synthetic Motor Oil Replacement
Oil Filter Replacement
Cabin Dust/Combination Filter Replacement
All Fluid Level Checks & Corrections Are Dependent On Factory-Recommended Service Intervals For Your Vehicle's Year & Model
Tire Inflation Check & Correction
Brake Component Inspection
Reset Maintenance Counter
Special Considerations
Diesel models, models with V12 engines and those manufactured by AMG® still utilize the Flexible Service System but have additional servicing requirements during B Service.
Additional diesel maintenance includes:
AdBlue fluid replenishment
Fuel filter replacement
Other repairs and maintenance items specific to your specific vehicle
V12 and AMG® models have a very unique set of maintenance needs. When scheduling your service, make sure to inform our service advisor that you are bringing in one of these models.
Schedule Your Recommended Service Today!
A Mercedes-Benz is truly an engineering marvel. And maintaining a vehicle of this caliber demands the same commitment to excellence.
At Crown Eurocars, our certified Mercedes-Benz technicians make that commitment every day.
Call today to make sure your Mercedes-Benz is getting the service it deserves!
Valid for MY09 and Newer. Price advertised for Service A/Service B includes all factory-required components. Please refer to your maintenance booklet for the complete list of factory-required services and details on the specific intervals for your vehicle's year and model.