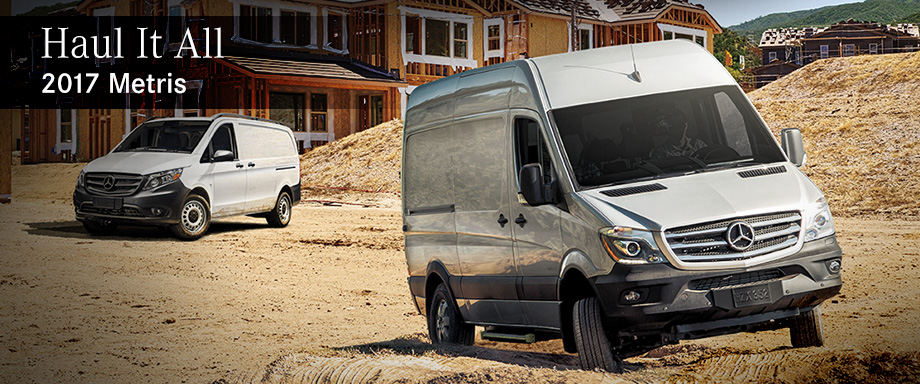 Sized Right To Get Work Done
Get your business moving again by making the 2017 Metris at Crown Eurocars your most efficient, reliable and adaptable employee.

Offering all the comfort, safety and utility features needed to get the job done, whether it's serving as a work or passenger van, this midsize Mercedes-Benz commercial van will prove to be a vital tool in your drive toward success.

Two years after Mercedes brought the Metris to market in order to complement its larger Sprinter, the motor company has 2 new trims in 2017 Metris to give buyers an option of 4 models - 2 passenger vans and 2 cargo vans.

All 4 models are now available for lease or purchase at Crown Eurocars in St. Petersburg.
Eye-Catching Exterior
In the Cargo WORKER model, the new Metris comes in white, while the Passenger-Transporting WORKER model comes in a choice of white, black or silver. Other exterior differences are rear seat windows for the passenger vans and an available sliding side door.

Other available exterior features include:
Roof rails
Heated and electric mirrors
Alloy wheels

A Comfortable, Versatile Cabin
The cargo van seats 2 people while the passenger van can haul up to 8. The passenger van offers up to 38 cubic feet of cargo space with all the seats taken - nearly doubling the cargo space offered in the Ford Transit Connect's passenger van. 

The Ford Transit Connect doesn't measure up to the cargo space in the 2017 Metris work van either. With 186 cubic feet of cargo space, the new Metris tops it by more than 50 cubic feet of space. The 2017 Metris work vans are also available with a variety of factory upfits including a wood floor, partition between cargo space and cab, driver side sliding door and 270-degree rear cargo barn door or a rear liftgate.

Other available interior features include:
USB port
Cargo straps
D-rings
Choice of 2 sound systems
Performance To Keep Your Business Pumping
The 2017 Metris keeps Florida business owners far ahead of their competition with its 208-horsepower 2.0-liter turbocharged I-4 engine.

Whether you're hauling people or cargo, the new Metris is the way to go. With a max payload of 2,502 pounds, it sends competing work and cargo vans like the Ford Transit Connect and RAM ProMaster City back to the gym. Those vehicles only offer a max payload of 1,620 pounds and 1,883 pounds respectively.

That's not all. The new Metris has a cargo volume of 186 cubic feet, easily storing more tools or goods than the 122.7 cubic feet in the Nissan NV 200, the 128.6 cubic feet of the Transit Connect or the 131.7 cubic feet the ProMaster City offers.

The 2017 Metris is also capable of towing up to 5,000 pounds, outdoing the Transit Connect by 1,000 pounds and the ProMaster City by 3,000 pounds.

Safe On The Job
The 2017 Metris is designed to create a safe work space for drivers in St. Petersburg, Clearwater, and Palm Harbor. The new Metris comes with a load-adaptive electronic stability system, several airbags, attention assist to detect drowsiness and a crosswind mitigation feature to help drivers maintain their lane when the Florida winds begin to howl.
See Why Business Owners Choose The 2017 Metris
The new Metris in St. Petersburg leaves other work vans and passenger vans in the dust when it comes to power, cargo capacity and comfort. Visit Crown Eurocars in St. Petersburg today for a test drive and make the new Metris your most reliable employee now.