Mercedez Benz CPO Program
Certified Pre-Owned
Search your local dealer´s inventory for vehicles backed by the confidence of Mercedes-Benz.
Now with unlimited peace of mind.
Beyond the assurance of a painstaking certification process and 24-hour Roadside Assistance, every Certified Pre-Owned Mercedes-Benz now comes with industry-leading coverage: an unlimited-mileage warranty for one year that can be extended for up to two additional years. So no matter what your odometer reads, your confidence will know no bounds.†
Certification
To qualify for Pre-Owned Certification, a Mercedes-Benz vehicle must meet stringent criteria and pass a rigorous inspection.
General
To begin the inspection, a mileage/history verification is performed and owner's manuals and spare keys are assembled.
Identifiable Structural Damage
Mileage and History verification
Vehicle Maintenance Schedule Verification
Verify all recall and campaigns have been performed
Current Maintenance and Warranty Booklet
Current Owners manual
All spare keys including wheel locks if installed
OEM Factory Window verification
Roadside Assistance Program labels
MBCPO inspection label affixed to B-Pillar
Perform testing for Diagnostic codes
Engine Compartment and Pre-Road Test Checks
Mercedes-Benz engines undergo all oil and fluid inspections to ensure unmatched performance. Engine, transmission, and rear-axle oil, brake, clutch, and level-control fluid, among others are carefully examined.
Engine oil quality and level checks
Transmission oil check
Rear Axle Oil check
Transfer Case Oil Check
Front Axle Oil check
Antifreeze protection check
Power Steering Fluid check
Brake Fluid & Clutch Fluid check
Windshield Washer Fluid check
Level Control Oil, ADS
Battery Condition and check
Verify functionality of any moving linkages
AdBlue level check
Engine Component & System Condition check
We perform a thorough condition check verification of your engine from filters and plugs to engine mounts and V-belts.
Emission control System checks
Fuel Filter check
Spark Plug check
Dynamic compression test (over 60,000 miles)
Fuel Injection System
Ignition System check
Pre-Glow system check
Vacuum pump check
Boost Pressure Check
Air cleaner / Filter check per maintenance schedule
V-Belt and Poly V-Belt check
Engine Mount check
Heating and Ventilation Dust filter per maintenance schedule
Active Charcoal Filter / Pre-Filter per maintenance schedule
Recirculation Air Filter per maintenance schedule
A/C Refrigerant Charge per maintenance schedule
Electrical Systems and Function Test
Everything on the vehicle that takes a charge, from the headlamps, fuses, and radio to the heated seats, front seat-belt presenters, and rear-window sunshade, gets checked and approved.
Fuses condition and proper rating
MIL check
Instrument Cluster check
Exterior rear view mirror check
Exterior mirror fold-back operation
Interior rear view mirror check
Automatic dimming rear view mirror
Radio and speaker function check
Tire Pressure Monitoring System check
CD Changer and DVD rear entertainment system check (if applicable)
Cell phone and BlueTooth check (if applicable)
Cigarette Lighters
Voice Control Systems (if applicable)
mBrace functionality and software check
Switches check
Steering Column adjustment and memory
Seat Adjustment and memory check
Heated / Ventilated Seats
Front Seat Belt Extenders (coupe and Cabriolet)
Front seat backrest latch/ Release (Coupe and Cabriolet)
Front seat backrest latch/ Release Chime / Warning Lamp (Coupe and Cabriolet)
Rear Window Defroster check
Rear Head Restraint Retraction
Rear Window Sunshade
Horn
Headlamp Low / High Beam & All exterior lights
Rear Seat Back rest latch / Warning Lamp
Panorama Roof Function and Rollo Shades
Interior and Entry Lighting
Windshield Wiper / Washer systems
Air-Scarf Functionality
Rain-Sensor Functionality
Undercarriage / Drive Train
We get right underneath the vehicle to scrutinize the steering, suspensions, brakes, wheels, tires, and driveshaft.
Drive Shaft Flex discs, couplings and Center Support Bridge
Exhaust System /Connections / Supports
Parking Brake and Cables
Brake Lines
Tire Wear including spare
Wheel inspection
Wheel bolt torque
Wheel alignment check and adjust if necessary
Brake Rotors and Pads check
Shock Absorbers / Damper struts
Suspension Inspection
Self-Leveling Suspension inspection
Front / Rear Axel Rubber Mounts / Bushings
Check Steering Play
Tighten Steering Gear Bolts for 463 vehicle
Front Axle Ball joints
Steering Shock for 463 vehicle
Chassis / Body
From body structure to glass, lamp frames, lenses, seat belts, and vanity mirrors, nothing is left out.
Body Structure Inspection
Glass, Lamp Frames and Lenses
Central Locking System Function
Mechanical Locking at all points
Alarm System Function
Power Window Operations from all points
One touch and convenience Closing
Interior Trim, Inspect Dash, Door Panels, Seat Covers, etc
First Aid Kit - Inspect and Replace if inner seal is broken, check expiration date
Multi-Contour seats
Seat Belt Operation and Condition
Front Seat Belt Height adjustment
Front Seat Center Armrest and hinges
Front Sun Visors / Vanity Mirrors, Rear Vanity Mirrors (if equipped)
Roll Bar / Pop Up Headrest
Parktronic (if available)
Soft top and Seats, condition and operation
Aircap - Check operation and proper movement according to vehicle specs
Door / Trunk Lid Closing Assist
Trunk Release
Tailgate ClosingAssist
Rear Facing Third Seat (Station Wagon)
Door / Trunk / Tailgate Seals, Inspect Drains
Sliding Roof function Drains and Headliner
Inspect Glass Roof for Scratches / Corrective action
Instruments
Road Test
The road test is conducted firsthand from the driver's seat: instruments, vibration and noise, shift lock operations, and more are all checked.
Instruments
Speedometer / Odometer / Tripmeter
Steering / Vehicle handling / Centered Steering Wheel
Braking System Performance / Parking Brake Operation
Automatic Climate Control Function, Regulation, Display, Odors
Cruise Control Function
Verify Navigation Function
Verify Distronic Function
Engine Performance
Excessive Exhaust Smoke (Diesel)
Vibration and Noise (Drivetrain / Wheels)
Transmission Shifting (upshift / downshift, Kickdown)
Shift-Lock Operation
Wind Noise
Post-Road Test
After our test drive, we check for leaks, verify the proper fluid levels, and complete the inspection of the climate control begun during road testing.
Fluid Leaks - Visible Inspection
Automatic Climate Control
All Fluid Levels (under hood)
Appearance
A Certified Pre-Owned vehicle is a clean-skinned beauty, as free as dings, dents, rips, scratches, and scuffs as we can make it, with high quality fit and finish, inside and out.
Engine wash
Trunk Mats
Paint
Spare Tire, Tools & Jack, Check Tirefit sealant expiration date
Moisture and Odor
Vacuum and Shampoo
Floor Mats
Carpet
Upholstery
headliner, Door Panels
Buttons Knobs and Vents, Instrument Panel
Glass and Mirrors
Wood and / or Chrome Trim
Vacuum and Shampoo
Screws
Ashtrays
De-grease Door Jambs, Hinges, Kickpanels and Visors
Moisture and Odor
Dings, Dents and Scratches
Examine Paint
Examine and Clean Chrome
Glass and Mirror Housing
Grill
Lamp Lenses
Badges
Trim and Moldings
Wipers
Bumpers
Door Edges, Frames
Wash and Wax
Scuffs and Scratches
Cuts and Gouges
Wash and Polish
Warranty
When you choose a Certified Pre-Owned (CPO) Mercedes-Benz, you get much more than an extraordinary automobile. You get industry-leading coverage -- which now includes unlimited mileage with all CPO warranties.†
Extended Limited Warranty
Additional, affordable coverage that starts when the standard warranty ends.
Every Mercedes-Benz Certified Pre-Owned (MBCPO) vehicle is covered by the standard MBCPO Limited Warranty -- which now runs for 1 year with unlimited miles, starting when your vehicle's original 4-year/50,000-mile* Mercedes-Benz New Vehicle Limited Warranty expires.
So that you can continue to enjoy unparalleled peace of mind when the CPO Limited Warranty ends, our Mercedes-Benz Certified Pre-Owned Extended Limited Warranty program offers additional coverage for either 1 or 2 years -- now with unlimited miles.
*Whichever comes first. Please see your Mercedes-Benz Dealer for a copy of the Mercedes-Benz Certified Pre-Owned Limited Warranty and the Mercedes-Benz Certified Pre-Owned Extended Limited Warranty.
Advanced Electronics
Coverage of most advanced electronic components including COMAND, navigation system, SIRIUS Satellite Radio, Modular Control System (MCS), and CD player.
Steering
Covers most elements of the power steering system. Excludes some hoses.
Suspension
Coverage of most of the vehicle's suspension pieces and the Adaptive Damping System (ADSII), if so equipped.
Brakes
Covers most elements (excluding wear of discs and pads), including the standard Antilock Braking System (ABS).
Electrical Systems
Covers various electrical systems, includes most motors, gauges, connectors, switches, sensors, regulators, and relays.
Climate Control System
Coverage applies to certain items of the vehicle's Tempmatic or automatic climate control system, including the system's air conditioning and heating assemblies.
Central Locking System
Covers various actuators, switches, and linkages, plus remote transmitters (excluding batteries) and receivers for the remote locking system.
Convertible/Retractable Top Systems
The top-actuation systems and roll bar mechanisms are fully covered.
Other Components
Additional covered components include front and rear windshield wiper linkages, power seat drive cables, seat belt assemblies, sunroof cables, window regulators and, if applicable, the pneumatic door and trunk closing assist systems. For exact details on Extended Limited Warranty coverage, please consult with your Mercedes-Benz Certified Pre-Owned Representative.
Towing and Trip Interruption Reimbursement
As with the standard MBCPO Limited Warranty provides free towing to the nearest Mercedes-Benz Dealership in the event of a covered breakdown, as well as MBUSA's Trip Interruption reimbursement program.
Engine & Powertrain
Engine coverage includes most major engine components including control module, intake, and exhaust manifolds, turbocharger, supercharger, and all internally lubricated parts, seats, and gaskets. See the MBCPO Limited Warranty Booklet for complete listings.
Powertrain coverage includes transmission and rear axle. If your MBCPO vehicle is equipped with 4MATIC™ all-wheel drive or any other Mercedes-Benz traction and stability enhancements (ASD, ASR, 4-ETS, ESP), those systems are covered as well.
Transmission
Coverage includes most major transmission components including control module, casing, clutch disc, pressure plate, and all internally lubricated parts, seals, and gaskets. See the MBCPO Limited Warranty Booklet for complete listing.
Rear Axle
Coverage includes most major rear axle components, including bearings and hubs, drive shaft, drive shaft center bearing, axle side shafts, and all internally lubricated parts, seals, and gaskets. See the MBCPO Limited Warranty Booklet for complete listing.
Stability Enhancement
Coverage includes hydraulic unit for ABS and 4-ETS systems, charging pump, pressure reservoir, control module, and vehicle speed sensors.
4MATIC All-Wheel Drive
Coverage includes most major all-wheel drive components including front axle and shaft, center section, bearings, hubs, speed sensors, control module, and all internally lubricated parts, seals, and gaskets. See the MBCPO Limited Warranty Booklet for complete listing.
Mercedes-Benz Star Prepaid Maintenance
Mercedes-Benz is the expert when it comes to maintaining your Pre-Owned vehicle.
You're driving one of life's luxuries - a Mercedes-Benz Pre-Owned vehicle. Be sure to talk to your dealership representative about properly caring for your investment with Mercedes-Benz Pre-Owned Prepaid Maintenance. It's the smart, convenient way to ensure your vehicle's required maintenance needs are taken care of the right way.
Mercedes-Benz Prepaid Maintenance covers required maintenance at your vehicles specific maintenance intervals and provides these benefits:
Measurable savings versus purchasing maintenance as you go*
The convenience of having paid in advance
Maintenance performed by Mercedes-Benz trained technicians using Genuine Mercedes-Benz Parts
Potential increase in resale value
The plan offers 2 or 3 service packages to choose from, includes required services and may be purchased on model year 07 or newer vehicles and up to 80,000 total vehicle accumulated miles. Services must be performed in consecutive order.
Mercedes-Benz also offers flexible payment options. Please contact your dealership for more details.
*Savings may vary by dealer and model. Mercedes-Benz Prepaid Maintenance is available for all models except Maybach, SLR, and SLS.
Limited Warranty
Every vehicle is backed by one of the most comprehensive certified pre-owned warranties available -- now with unlimited mileage.
Every Mercedes-Benz Certified Pre-Owned (MBCPO) vehicle comes with unparalleled peace of mind. For starters, it´s covered by any remaining portion of the Mercedes-Benz four-year/50,000 mile* New Vehicle Limited Warranty.
Then, the MBCPO Limited Warranty provides comprehensive vehicle coverage for another 12 months -- now, with unlimited miles. For those MBCPO vehicles that are no longer covered by the New Vehicle Warranty, the MBCPO Limited Warranty takes effect at the time of delivery.
Coverage extends to the engine and powertrain, steering, suspension, brakes (excluding wear of discs and pads), electrical system, climate control system, and more.**
*Whichever comes first.
**Please see your Mercedes-Benz Dealer for a copy of the Mercedes-Benz Certified Pre-Owned Limited Warranty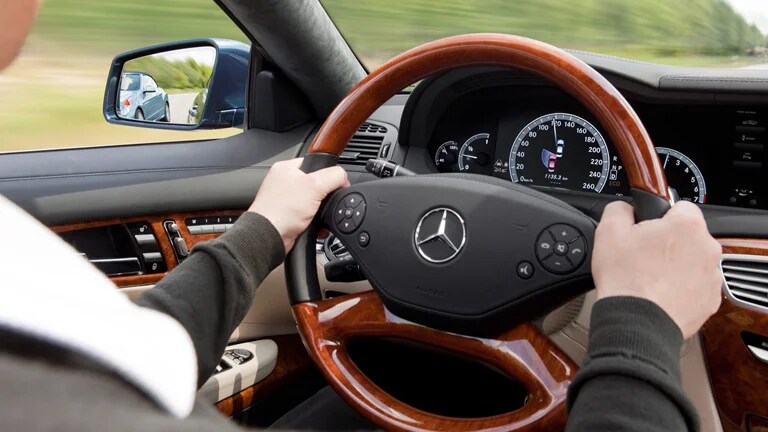 24/7 Personal Assistance
You are only a phone call away from 24-hour Roadside Assistance, Sign and Drive service (a free jump-start, flat-tire change with your existing spare, or some fuel for an empty tank), Trip Interruption and trip routing, product and technical information, or anything else related to your Mercedes-Benz.
1-800-For-Mercedes (1-800-367-6372)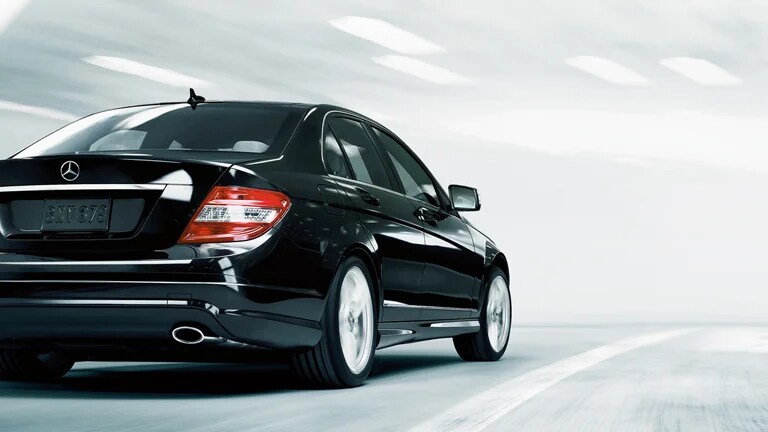 Nationwide Dealer Support
Your Mercedes-Benz Certified Pre-Owned vehicle is supported by more than 300 authorized Mercedes-Benz Dealers nationwide, all of whom honor the standard Mercedes-Benz Certified Pre-Owned Limited Warranty and Extended Limited Warranty.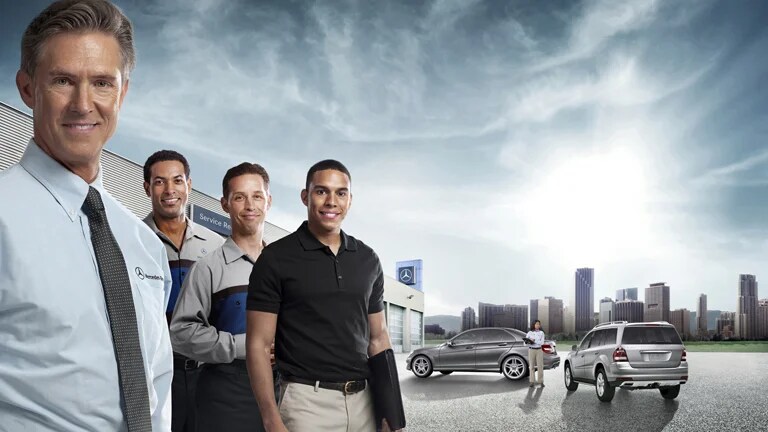 Trip Interruption Coverage
Part of Mercedes-Benz Roadside Assistance, the Trip Interruption program reimburses** you for expenses up to $300 per day for up to three days in the event of a warranty-covered breakdown occurring more than 100 miles from home and causing an unexpected stay overnight.
**Reimbursement includes actual documented meal, lodging, and substitute transportation expenses incurred while your Mercedes is repaired at an authorized Mercedes-Benz Dealership.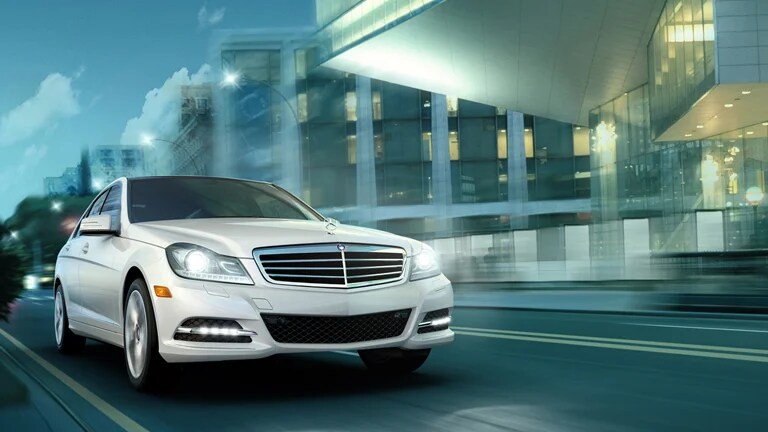 Vehicle Exchange Privilege
Every Mercedes-Benz Certified Pre-Owned vehicle is sold with a seven day/500 mile Exchange Privilege*. If you are not satisfied, return within seven days/500 miles (whichever comes first), and the authorized Mercedes-Benz Dealer will exchange it with another Certified Pre-Owned vehicle of equal or greater value (if the buyer wishes to pay the difference).
*See your Mercedes-Benz Dealer for details.