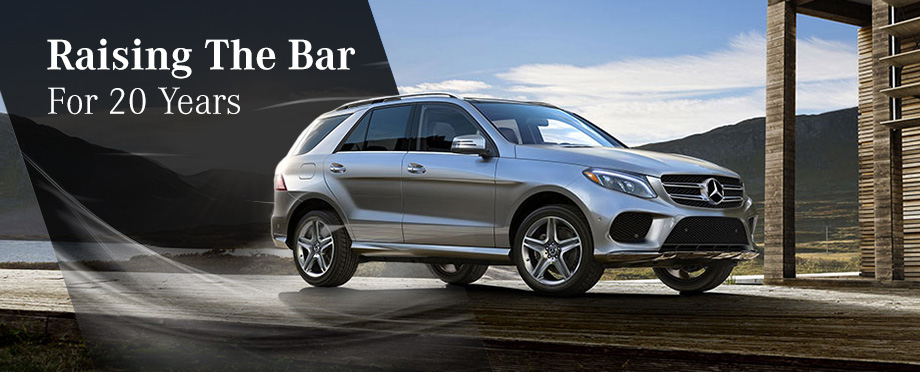 Awe Inspiring Beauty
The premium SUV that invented the class is still the leader of the pack 20 years later. The 2018 GLE 350 at Crown Eurocars has stayed true to its roots with its classic, elegant design that has evolved into a modern masterpiece. The athletic new GLE stance is accentuated by wheels that range in sizes from 18-inches all the way up to the 20-inch AMG® alloys. Extraordinary LED Daytime Running Lamps highlight the 2018 GLE's sleek profile and available active LED headlamps offer the unique ability to adapt to curves and traffic ahead.
The new GLE 350 is the perfect blend of function and beauty that continues to raise the standard of what a luxury SUV should be.
Powerful, Agile And Efficient
There are very few things in this world that have the power to excite like the 2018 Mercedes-Benz GLE 350 of SUVs.
When you think of typical SUV performance, words like slow and boring usually come to mind. Thankfully, the new GLE 350 is not most SUVs. The 2018 GLE 350 offers exceptional handling and advanced power options that produce the perfect blend of fun and fuel efficiency.
Gas up your new GLE or plug it in. Direct injection V6 engines generate more power from less fuel. The innovative 2018 GLE 550e plug-in hybrid gets an EPA-estimated 50 MPG highway and still generates Biturbo quickness. The 4MATIC® all-wheel drive system comes standard on most new GLE models and offers reassurance on wet roads and exhilarating handling on dry corners.
Spacious Comfort And New Age Convenience
Whether you are loading up groceries or the family, the 2018 GLE 350's spacious, adaptable cabin can be configured to best suit your needs. With comfortable seating for 5 adults and 80 cubic feet of cargo, there is plenty of room for your next beach trip!
The new GLE 350 makes your life easier with a host of innovative technologies. Your smartphone can easily connect to your 2018 GLE via the Mercedes Me app. You can lock and unlock your SUV and start it remotely all with a couple taps on your screen.
If you happen to be an audiophile, the optional Bang & Olufsen™ sound system is sweet music to your ears, literally. The system has been crafted and refined over hundreds of hours of testing to deliver studio level sound in your new GLE, so you can fully experience your favorite tunes.

Real Safety Actions On Your Behalf
Drive with a second set of eyes fully focused on the road and smart features ready to respond to any situation that may be thrown at you.
Live with less stress with the 2018 Mercedes-Benz GLE 350' intelligent drive features. The new GLE 350 is equipped with features like Active Brake Assist that can help you avoid a collision and optional Distance Pilot DISTRONIC® adaptive cruise control can guide you around turns with Steering Pilot. When you get a 2018 GLE 350, you get your own personal safety co-pilot as well.
See for yourself why drivers in St. Petersburg, Clearwater, Largo and Tampa are choosing the new Mercedes-Benz GLE 350. Visit Crown Eurocars in St. Petersburg, FL to test-drive, buy or lease the 2018 GLE 350 SUVs.